Research
University of Arkansas researchers use the AHPCC core research facility to enable computationally intensive research across many disciplines. AHPCC is proud to provide this collection of ongoing hpc-related research provided by several of our dedicated HPC Users.
HPC-related research is supported in part by the following grants: National Science Foundation grants #0722625, #0959124, #0963249, #0918970; a grant from the Arkansas Science and Technology Authority.
HPC in Animal Sciences
Investigating the Impact of Genetic and Epigenetic Factors for Use to Improve Beef Cattle Performance Under Environmental Stressors
Funded by:
University of Arkansas
Project dates:
Jan 1 2016 - Dec 31 2020
PI:
James Koltes, Animal Sciences, University of Arkansas
CoPIs:
TBA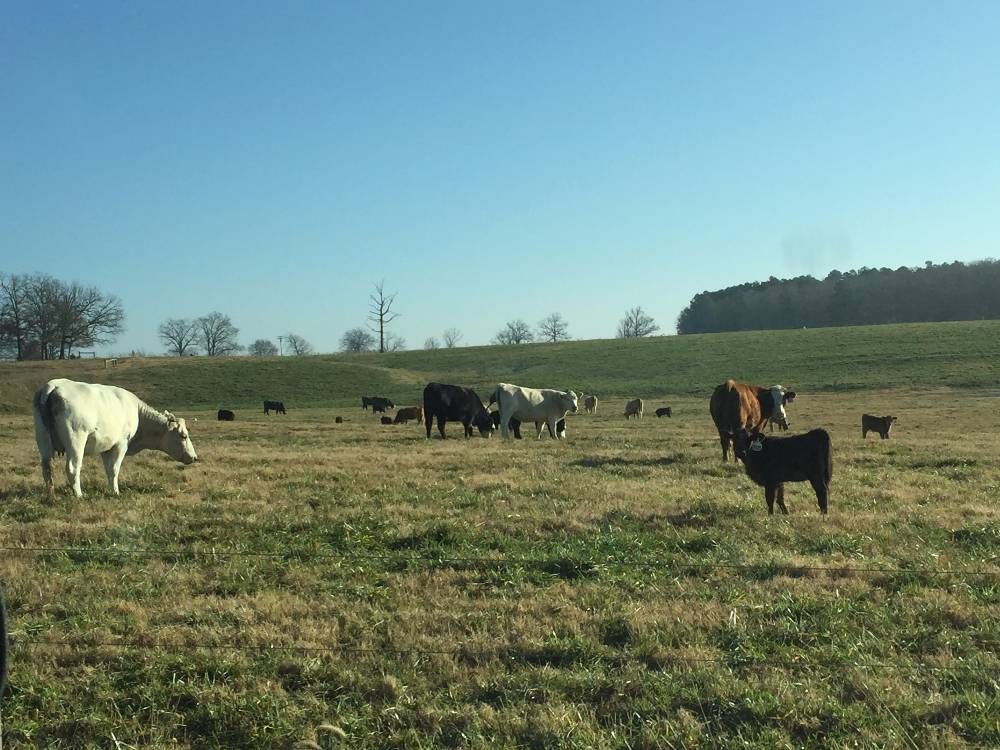 Tall fescue grass (Festuca arundinacea (Schreb), aka Lolium arundinaceum) is a common forage source for more than 8.5 million cattle in the southern US because it has exceptional nutrient content and is heat and drought tolerant. Fescue grass contains a fungal endophyte (Neotyphodium coenophialum) that confers heat and drought tolerance, but it also produces mycotoxins (i.e. ergot alkaloids) that lead to increased susceptibility to heat stress and associated health, reproduction and growth decline in cattle. Fescue is estimated to cost the beef industry more than $600 million annually with some recent estimates as high at $1 billion annually. Despite ongoing research into the causes of fescue toxicosis and ways to mitigate it's effect, we still understand relatively few of the impacts of fescue on bovine physiology. Further, it is often difficult to determine the extent of fescue toxicosis in an animal because only a limited number of symptoms are defined. Since fescue toxin concentrations can vary greatly from location to location and over time, it is important to be able to determine the impact on the animal. Relatively little is known about the impact of ergot alkaloids at the molecular level within tissues throughout an animal. This information is needed to better diagnose toxicosis and to improve various management strategies to mitigate losses.
The following objectives were developed to identify new markers of heat and toxic fescue stress to improve cattle health and performance.
Objective 1) Identify new biomarkers for improved diagnosis and identification of consequences of fescue toxicosis and heat stress in cattle.
Objective 2) Identify genetic factors associated with toxic fescue stress that impact cattle growth, health and reproductive performance under heat and fescue stress.
Objective 3) Identify epigenetic factors that may shield cattle from heat and toxic fescue stress.
Related Publications:
None
iAnimal: Cyberinfrastructure Enabling Animal Breeding, Genetics and Genomics
PI: Eric Lyons, Plant Sciences, University of Arizona
Funded by:
U.S. Department of Agriculture
Project dates:
Jan 1 2016 - Dec 31 2020
PI:
Eric Lyons, Plant Sciences, University of Arizona
CoPIs:
James Koltes, Animal Sciences, University of Arkansas
Rationale: Although scientists can do genome-wide quantitative measurements (e.g., SNPs, CNVs, expression, epigenetics, QTLs), there exists a critical need for computational resources to manage and analyze these data. Researchers require platforms that enable scientific discovery and accelerate improved agricultural production. Our rationale is that by leveraging existing investments in computational platforms and providing an easy-to-use personalized data-management system that transparently integrates and scales with computational complexity will enable animal researchers to more rapidly transform their data into knowledge for long-term gains in animal production.Goal, specific objectives and approach: Our long-term goal is to provide integrated computational resources that enable livestock researchers to accelerate their research towards improving US agriculture productivity. Our overall goal is provide a suite of integrated computational resources that leverage prior national investments in cyberinfrastructure, enabling the livestock research community to accelerate their research towards improving animal health, productivity and welfare. We will accomplish our overall goal via the following specific aims:
Aim 1: Quantitative Genomic Data Management and Visualization. Our approach will:
(1) expand the epigenetic subsystem of CoGe (EPIC-CoGe) to store SNP, CNV, expression, and QTL data;
(2) develop new data visualization paradigms for complex, quantitative and interrelated biological data; and
(3) provide research-driven user-interfaces.
Aim 2: Integrate iPlant, AgBase, and CoGe to form iAnimal foundation/nucleus. Our approach will:
(1) leverage iPlant's cyberinfrastructure to unify user accounts among iPlant, AgBase, and CoGe;
(2) allow scalable access to data storage through the iPlant Data Store and its integrated high-performance computing resources;
(3) enable researchers to transparently move their data and analyses between these platforms.
Aim 3: Workforce Development for Agricultural Animal Researchers. Our approach will:
(1) develop asynchronous, online training material in the forms of video and written tutorials;
(2) provide hands-on workshops at meetings frequented by agriculture scientists; and
(3) leverage iPlant's virtual collaboration software systems, enabling researchers to form and maintain collaborative partnerships.
Related Tools and Applications:
Funded by:
U.S. Department of Agriculture, University of Arkansas
Project dates:
Jan 1 2011 - Ongoing
PI:
James Koltes, Animal Sciences, University of Arkansas
CoPIs:
TBA
Livestock genomics researchers are generating mountains of next generation sequencing data that must be deposited in a public repository for publication. The NCBI short read archive (SRA) is a repository for many types of sequence data including RNA-seq and various regulatory markings that may mediate epigenetic regulation. The livestock Epigenetics database (EpiDB) is a resource that filters public RNA-seq, small RNA-seq, ChIP-seq and methyl-seq data by species, tissue and sequencer type. Only Illumina data that passes quality control (FASTQC) and is annotated for tissue type is retained for analysis. All metatdata is captured and stored in a MySQL database that is linked to a web portal where data can be queried based on species, data type, and tissue. Users can download metadata and access all sequence data through links to NCBI. RNA-seq data is processed to allele specific expression values that can be used to identify differential splicing or other gene regulatory effects. In addition, standardized expression panels were calculated to identify tissue specific transcripts and relative expression levels. As a proof of principle, we analyzed publically available bovine functional genomics data to develop reference expression profiles. These data will allow tissue specific transcripts and expression levels to be generated to allow for the comparison of gene expression levels across species as well as other downstream analyses.
HPC in Biomedical Engineering
Design of Catalytic Membrane Reactors for Biomass Hydrolysis and Separation
PI: Xianghong Qian, Biomedical Engineering, University of Arkansas
Funded by:
National Science Foundation, Award Number: 1264896
Project dates:
April 15 2013 - March 31 2017
PI:
Xianghong Qian, Biomedical Engineering, University of Arkansas
CoPIs:
Ranil Wickramasinghe, Chemical Engineering, University of Arkansas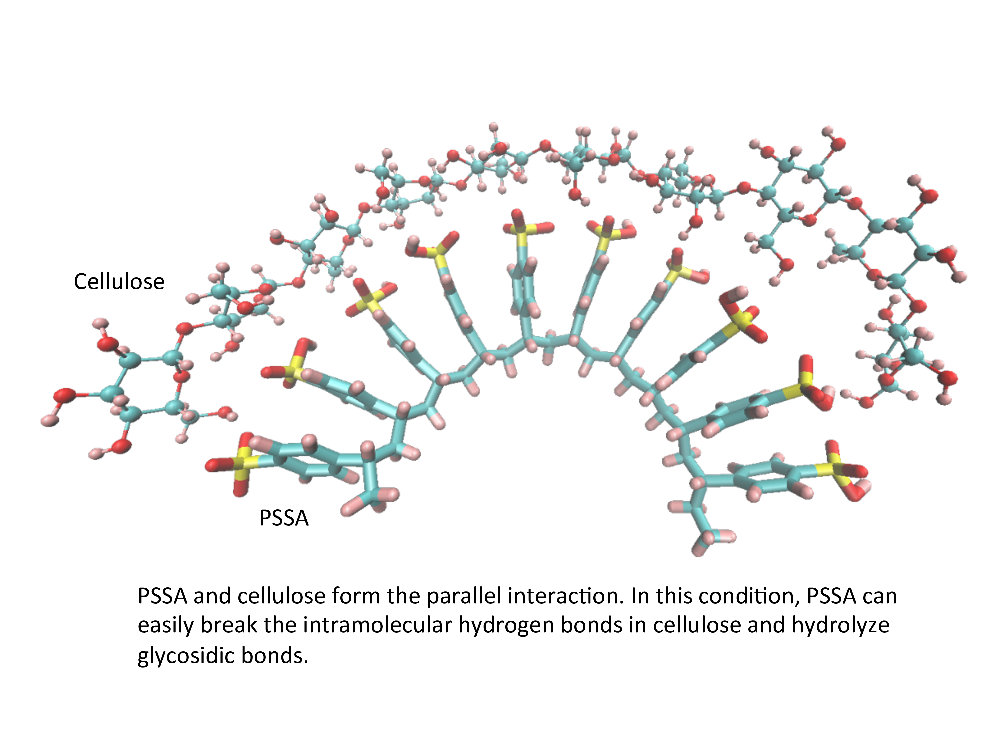 The overall objective of this proposed project is to develop an innovative, paradigm-shifting catalytic membrane reactor for biomass conversion that results in high yields of sugar at low cost. Most liquid phase processing technologies for production of biofuels start with monomer sugars (glucose, fructose, xylose, etc) from biomass fractionation. The current paradigm uses corrosive, dilute sulfuric acid for pretreatment to hydrolyze hemicelluloses. Relatively expensive enzymes are used to break down cellulose. Current technology gives low sugar yields at high cost. We will overcome these problems by designing sulfuric acid and enzyme replacement catalysts that operate at a higher conversion rate than the analogous natural enzymes and that cost far less to produce. We aim to develop reusable, environmentally friendly catalysts for conversion of hemicelluloses and cellulose in one step in an aqueous or a mixed water and ionic liquid (IL) solvent. Sugar yields will be improved by immediate separation of hydrolyzed monomer sugars thus minimizing degradation. The appropriate choice of the membrane and its pore size will allow permeation of an aqueous monomeric sugar stream and retention of the IL for reuse.
This project is highly multidisciplinary in nature, encompassing catalyst synthesis via surface modification, product separation and computational chemistry. Low cost conversion of biomass to produce high yields of sugar will be achieved via the following approaches:
Application of combinatorial methods to the computational design of enzyme replacement catalysts for cellulose and hemicellulose hydrolysis to monomer sugars.
Grafting computationally designed nanostructures from porous inorganic membrane surfaces in order to build a catalytic membrane reactor for simultaneous hydrolysis and sugar separation.
HPC in Mechanical Engineering
Electric-Field Alignment of Immiscible Polymer Blends with Dispersed Nanoparticles for Mesoporous Reactive Membranes
Funded by:
National Science Foundation, Award Number: 1511896
Project dates:
July 1 2015 - June 30 2016
PI:
Paul Millett, Mechanical Engineering, University of Arkansas
CoPIs:
Miko Cakmak, Polymer Engineering, University of Akron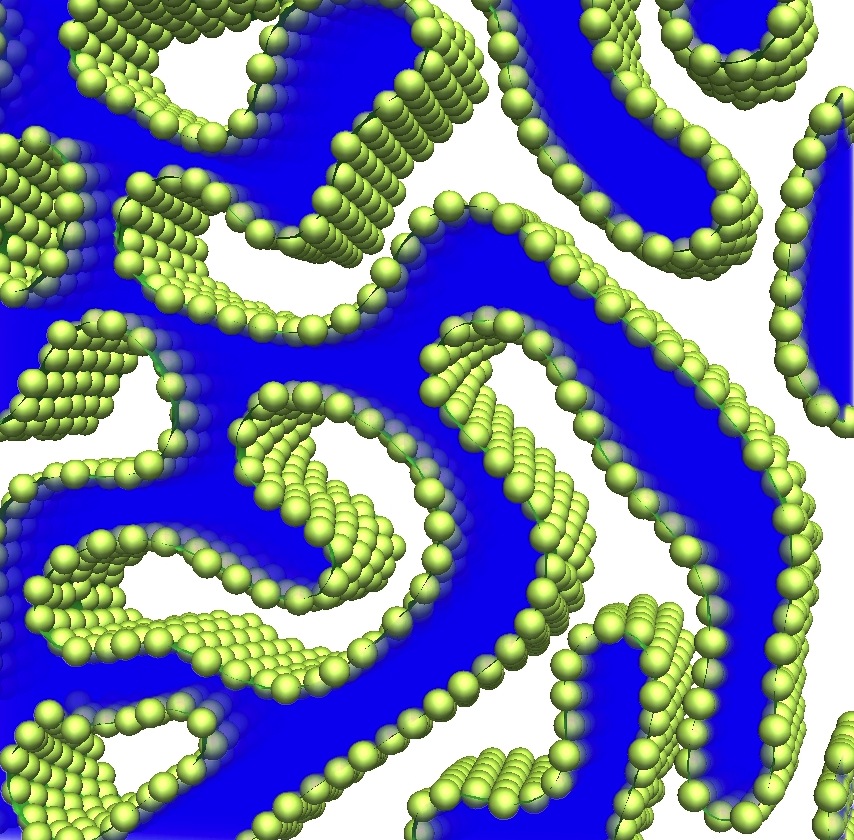 This project uses experiments and numerical simulation to examine the dynamics of thin films of phase-separating polymers that contain nanoparticles. When phase separation occurs, the nanoparticles segregate to the interfaces between polymer phases, which locks the configuration of the phases into place. To control the spatial morphology of the thin film, an electric field is applied to align the phases and the particles perpendicular to the film. Then, one of the polymer phases can be dissolved away, leaving a membrane-like structure containing channels that are lined with the particles. The particles can be made on the scale of nanometers and they can be made catalytic, which gives rise to a variety of technological capabilities, including using the resulting membranes for chemical separations, catalysis, and in energy-related devices such as photovoltaics and light-emitting diodes.